I realize that most people would not be as excited as I was to go to Waitrose. I'm strange, I know. Anyway, while I was there I found
the greatest thing...
...
...
Drum roll please...
..
.
A non-apple dilutable drink that is actually citric acid free!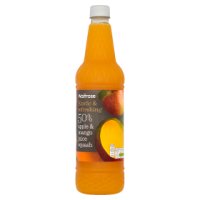 Ok, it has apple in it, but it is most certainly a different flavour to all the others, Which, when you are drinking
only apple
on a daily basis is a wonderful thing.
Here is the previous post on the other
dilutable drinks
I have found so far